DRAWER RELEASE SYSTEMS
SOLUTIONS FOR YOU.
At Austin Hardware® we have several different options to choose from when it comes to picking the right drawer release system for your specific needs. All of our patented drawer release systems are designed for quick and easy installation, one-handed use, and with strength in mind.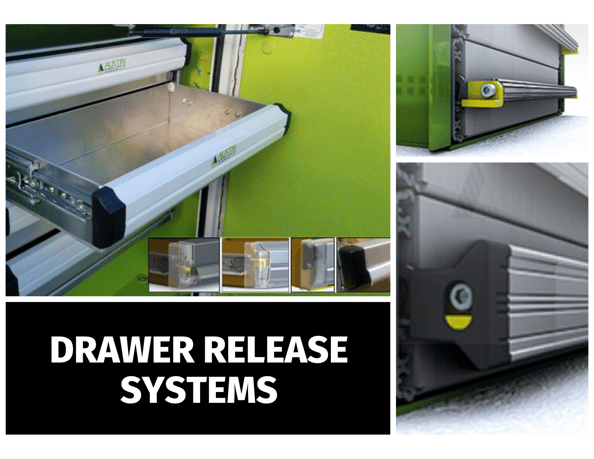 FDR system is a new, patented solution, designed to work with a one-handed application. The Front Drawer Release, or FDR system was specially designed for on the go application that provides strength, security, and ease of use for a variety of applications.
DRAWER RELEASE PRO
Simple and sleek, this drawer release is more than functional - it's intentional. The Drawer Release Pro installs directly to Austin's 7650 drawer slides using standard zinc plated 1/4-20 bolts and a self-locating nut. The Genesis­™ Drawer Release system does not require a pro to properly install. Paired with our 7650 drawer slides, this install is quick and easy. This is the cost-effective functional drawer release option you've been looking for.
DRAWER RELEASE LITE
The Drawer Release Lite installs directly to Austin's 7650 drawer slides and is the simple, cost effective solution you've been looking for. Designed for easy, quick installation this is another great option for drawer slides.